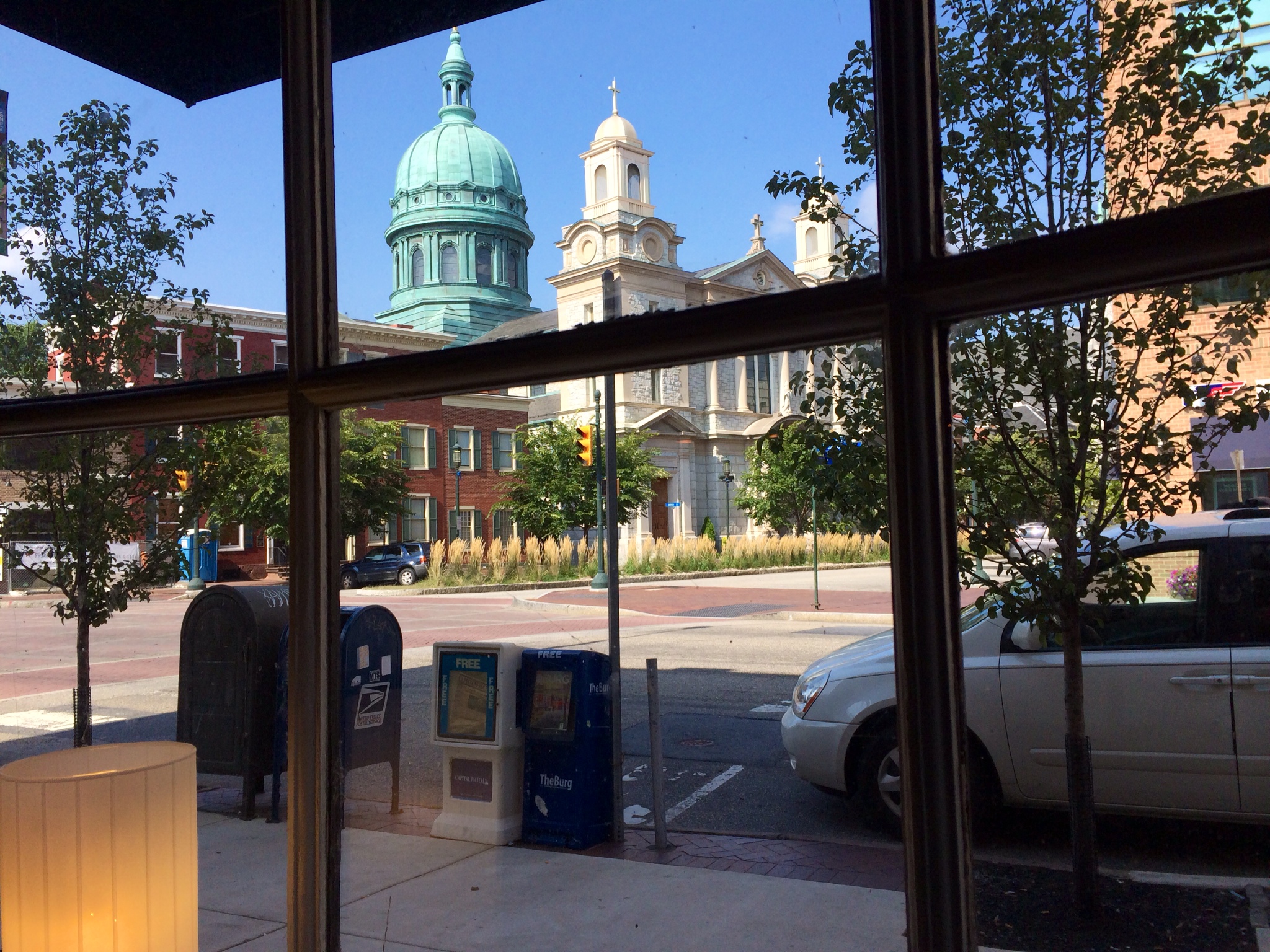 This past June, I was part of a missions team that made a trek across the Northwest in an old city bus, spreading the love of God in churches and on the streets of every city we visited. As we drove across Montana and into Idaho, I was talking to my friend, Cristina, and she was telling me about the things going on back home in Pennsylvania, where she and her husband, Tannon, had taken over the leadership of a large community house and missions base. We began talking about the possibility of me visiting for a few weeks and helping out with some things during the transition. An hour later, she looked at me and said, "You know, you could just move to Harrisburg." This comment wasn't unfamiliar. A year ago, when Tannon and Cristina moved to Harrisburg from Oklahoma, they had said the same thing.

My response was similar both times, a slight laugh. But this time, it was different. "You know," I said. "I'm actually at the point in my life where packing up and moving across the country would make the most sense. But I don't think that's what I'm supposed to do."

"Why don't you pray about it?" Cristina countered.

"Sure," I said, with no intention of actually doing so. "I'll pray about it."

A week or so later, we were driving through the night from Portland to Sacramento. We were on the final leg of the trip, and I was ready to return home to Texas, to life as usual. Tannon asked each of us to take a few minutes to ask God what He had for us in the next season of life, as we dispersed across the country to our individual states and cities.
Ten minutes later, I slid across the row of seats to Tannon and Cristina, who were sitting at the front of the bus. "I'm moving to Harrisburg," I said casually, before laying down on my makeshift bed and sleeping through the night.

As I write this, I'm sitting in a coffee house on State Street, overlooking one of Harrisburg's most beautiful cathedrals, just a few blocks from the Pennsylvania State Capitol. It's September now, I've been here for almost a month, and I'll be here for the next year of my life. I live a mile and a half away, in a large community house with somewhere north of a dozen people. The house in located in the Allison Hill neighborhood, which is widely known as one of the roughest neighborhoods in the Commonwealth of Pennsylvania.

You know those awkward seasons of transition? This hasn't been one of them. I'm still connected to Texas through my business, so it's almost like I'm exploring for a year, only I'm staying in one place instead of traveling the country. The journey hasn't been without challenges though. In the weeks before I left Texas, I began to feel really lonely. At first I thought it was God's gentle way of releasing me from everything I've ever known, preparing my heart for living in community. But then I moved into a big house with a bunch of people and the feeling didn't really go away. And that's the worst type of loneliness, when you're around people but still feel isolated.

I remember one night, I think it was last week. I was talking to two of the girls that live in the house—one an old friend, the other new—and while I don't remember how the conversation went exactly, I remember telling them that I felt so alone, but that I didn't feel like I could pull back the curtain and let people into my experience.

I've noticed that one of the ways my mind plays tricks on me is to get me closed off in my own little world, and then convince me that I'm just being needy if I drop the facade and let others know what's really going on inside of me. But I've also noticed that when I push past the fear and open myself up, I often find another person looking me back in the eyes as they drop their own facade and share that they've been feeling the same way. And while this isn't always how it goes, I've found that feeling alone is a common human experience, even when it looks like we're surrounded by friends on the surface. There's a hidden power in letting go of what someone will think of you and inviting them into what's going on inside of you, even if it's only for a moment. And I think we need this; I think we need to be honest about where we're at more often, and perhaps then we wouldn't struggle as much. Because the worst part of the struggle is not the struggle itself, it's that feeling that you're on your own, that you have to protect yourself, that no one else could possibly understand what's going on inside of you.

In short, I'm embracing my newfound freedom to let people around me know when I'm not okay. I'm realizing that having needs and being needy are not the same thing, and sometimes you just need to take two minutes and let another person see your inner world before you return to conversation about the weather or good coffee. Letting down your walls feels terrifying at first, which is probably why we spend a lot of our time running from our own emotions, sticking to small talk and conversations about whether or not it will rain on Thursday.

I have heard it said that when you come to Jesus, when you taste of the springs of the water of life, it satisfies your thirst so that you never thirst again. And I think this is in the Bible somewhere, about a spring of eternal life that wells up inside of us. But in my day-to-day life, I've noticed that I thirst. In fact, I feel like I thirst more than I did before I found Jesus. The only difference is, I know where the water is. But the more I drink from the well that will never run dry, the more I thirst. The more I'm filled, the more I need. And I'm beginning to think that God designed me this way, that He didn't create me to just come to Him once and get fixed once and for all, but that He created me to continually thirst for the life that He offers. Perhaps maturing in Christ is about becoming more dependent, not more independent. Perhaps God wants me to continually keep coming back to Him, only to find that He has already put everything I need inside of me. It's crazy to think about that, that everything I need I already possess (2 Peter 1:3), but I often forget that, and I know I'm not alone This might be why, all throughout the Bible, God continually urges us people to remember—to remember who He is and what He has done, so we can remember who we are and all that God is inviting us into.
These are just a few of the things I am thinking about this afternoon. I may not know all of the correct Bible verses to describe these feelings, but I know that I thirst. I know that I need. I know that I need to be filled back up with Life each morning when I roll out of bed. I'm beginning to believe that everything God says about me is true, but I'm still on the journey. And I know that no matter what comes my way tomorrow, I don't regret saying "yes." I don't regret jumping headfirst into this new adventure, and until God connects all of the dots, I will journey on.

So here I am for the next year of my life, a thousand miles from home—all because of a simple "yes." Perhaps I'm a bit naive, but I want to capture this thing in me that says "yes" without hesitation when I feel God inviting me to something. I want to grab ahold of it and never let it go, no matter where I go in life or how much earthly success I achieve. I don't want to only have adventures in saying "yes" when I'm young and carefree; I still want to be saying "yes" to the next divine invitation when I'm a hundred years old and still have a life ahead of me to live.