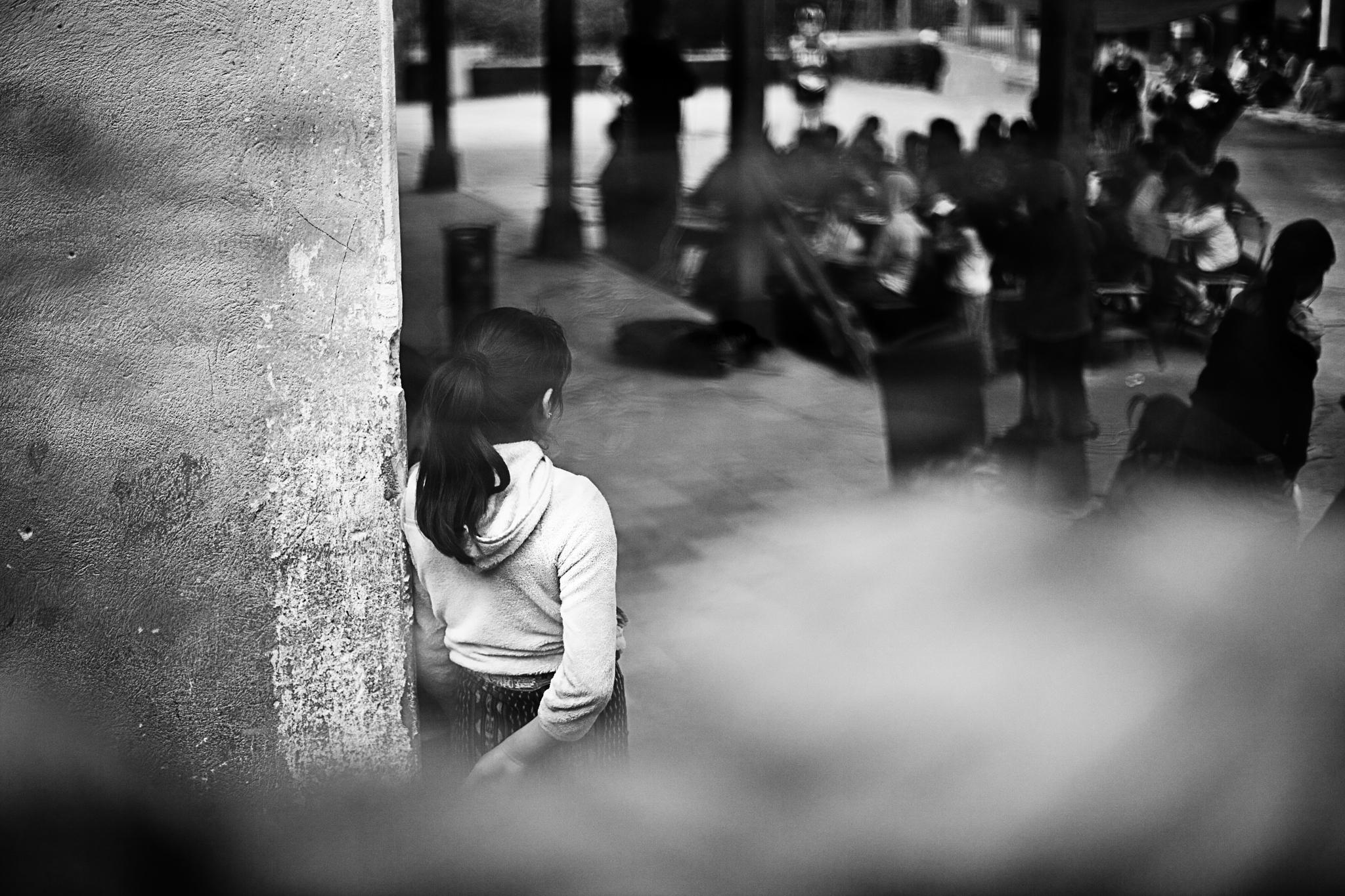 I began the first day of a new year began like most days around the holidays: sleeping in. My self-employment afforded me the benefit of sitting around in my sweatpants all day, watching Netflix with my family, chipping away here and there at a project for a client.
I was shutting things down shortly after midnight when I ran across an article that a friend has posted on Facebook. The headline got to me; I could go no further.

20-year-old UNT student shot in head.
"What is wrong with the world?" I found myself asking out loud. It's a question I've been asking more and more these days.
I would later sift through the grisly details, to find that the drive-by shooting had taken the life of this seemingly innocent young woman, a college student in a town not far from my parent's house in Texas.
I was in Baltimore a few weeks ago, driving through the neighborhood that was at the center of the riots earlier this year, when a simple sign on the front porch of a row home brought tears to my eyes. In large letters, it simply stated: We need to stop killing each other.
I've been losing hope for the past month with every headline. "When will we learn to love?" I ask myself. "When will we stop hurting each other?" And it's not just senseless violence; we hurt each other in so many ways. Not always intentionally, but it's been several thousand years and we still haven't quite figured out how to be human.
I think I am beginning to understand what the Scriptures say when they tell us, "All of creation groans." Even if we are not aware of it, the rocks and trees and birds recognize that something has gone terribly wrong with the world. How much more should we ache for things to be made right?
I don't know what to do with all the things the eyes of my heart cannot un-see. But I don't want my lack of answers to scare me into hiding. I don't want to catch myself longing to be removed from the world; rather, I want to enter into it more fully. I want to feel the pain and the heartache and the angst of creation; I want to come alongside of it and echo its groan with the groan of my own heart. I want to taste the sting of death so I will be able to glory in the beauty of resurrection. I am not talking about physical death or resurrection, but the death and resurrection we all go through in our lives. It almost seems as if life is but a series of cycles of death and resurrection. Perhaps this is why the creation that doesn't hide its groan goes through cycles of death and resurrection each year with the changing of the seasons.
If creation is groaning, I find it necessary to ask the age-old question of "Why?" In Romans 8, as Paul reveals to us this reality, he also tells us that creation is groaning because it is waiting for the sons and daughters of God to be revealed (v. 19). He then goes on to say that it isn't just creation that is groaning, but we also are entering into this groan as well (v. 23).
Creation is groaning as it waits for us to step into the reality of what we will someday be. We aren't always aware of this, because we tend to fill our lives with so much noise that we drown out the groan. This is why silence is so unnerving to some; if they get still for long enough, they just might hear the groan of creation, and that groan might mess with them, it might stir them up, it might cause an ache in their heart so big that they begin to groan themselves.
I still have hope in the midst of all of this, as did Paul, because I know that we were good before we were bad. What I mean by this is we were made in the image of God, and original goodness predates original sin. I also know that Jesus is restoring to us the life we've lost, that He is re-setting a humanity gone mad with sin and violence and a whole manner of death-filled pursuits. The great rescue mission is underway, and the little pieces we say breaking in to this present age are but the tip of the iceberg. God is making all things new, right in the middle of this messy and broken world where all we can do is groan at times.
We like verses like Romans 8:28 that tell us God works everything together for good for those that love Him, but sometimes, in the middle of cutting these versus out and putting them on our refrigerators, we forget the whole slew of verses leading up to that one about suffering and madness and the rocks, trees, and even the cute little bunnies coming alongside of us and joining us in our groan. We forget the present sufferings that must be entered in to before we can catch a taste of the future glory that is ours in Christ. I like how Paul does that, how he tells it like it is and lays it all out there before he paints a picture of beauty as our God comes to the rescue. We want to be rescued from our circumstances, but God instead rescues us through them.
And then, in Verse 31, Paul so plainly asks, "What, then, shall we say in response to these things?" Because the temptation is to shut down, to become numb, to drown out the groaning with whatever we can find. "If God is for us, who can be against us?" Paul goes on to ask. And I like the question mark there, because this is a question, a thought to ponder, before it is a proclamation of victory. Before this statement was a post-game response by a surface-level Christian on the football field, it was foremost a question. Because when we are in the middle of our groaning, the idea that God is for us and no one else can stand against us is first a question before it is a proclamation. It is something we must wrestle with until we feel it deep down in our guts, because only then can we boldly proclaim from the depths of our hearts that God is for us and no power can stand against us.
By the time he makes it to Verse 37 of his letter, though his original letter had no verses to number it but was instead the Spirit-inspired thoughts of a man who wasn't afraid to bleed, Paul is moving from questions to proclamations, each one more bold than the last.
"No, in all these things we are more than conquers through him who loved us!" he proclaims, a bit edgier than he was a few verses before. And he could have just left it there, but he didn't, because he allowed himself to feel the groan and plunge the depths of his own despair until he tapped into a well of life hidden from the wise and religious. There is a depth of knowledge that comes not through intellectual study and reason, but through suffering, and only those who groan can access it.
He could have just said that nothing can separate us from the love of God, but he instead launches into a monologue, each statement a bit ballsier than the last. "Nothing can separate us from the love of God that is in Christ Jesus our Lord," Paul writes, and he goes on to elaborate: no taste of death, nothing we experience in this present life, no angel, no demon, nothing in this present mess or the not-so-certain future, no cosmic powers, no height nor depth (as if we even know what that means), will be able to separate us from the love of God. And, as if that is not enough, he concludes his monologue by tacking on "nor anything else in all creation," just in case he missed something in the previous list.
We are groaning. All of creation is groaning. But nothing in this mad, mad world can separate us from the love found in Christ, a love that captivates our hearts and fills us with hope for humanity—for the ones that God called "very good" back before the groaning began.