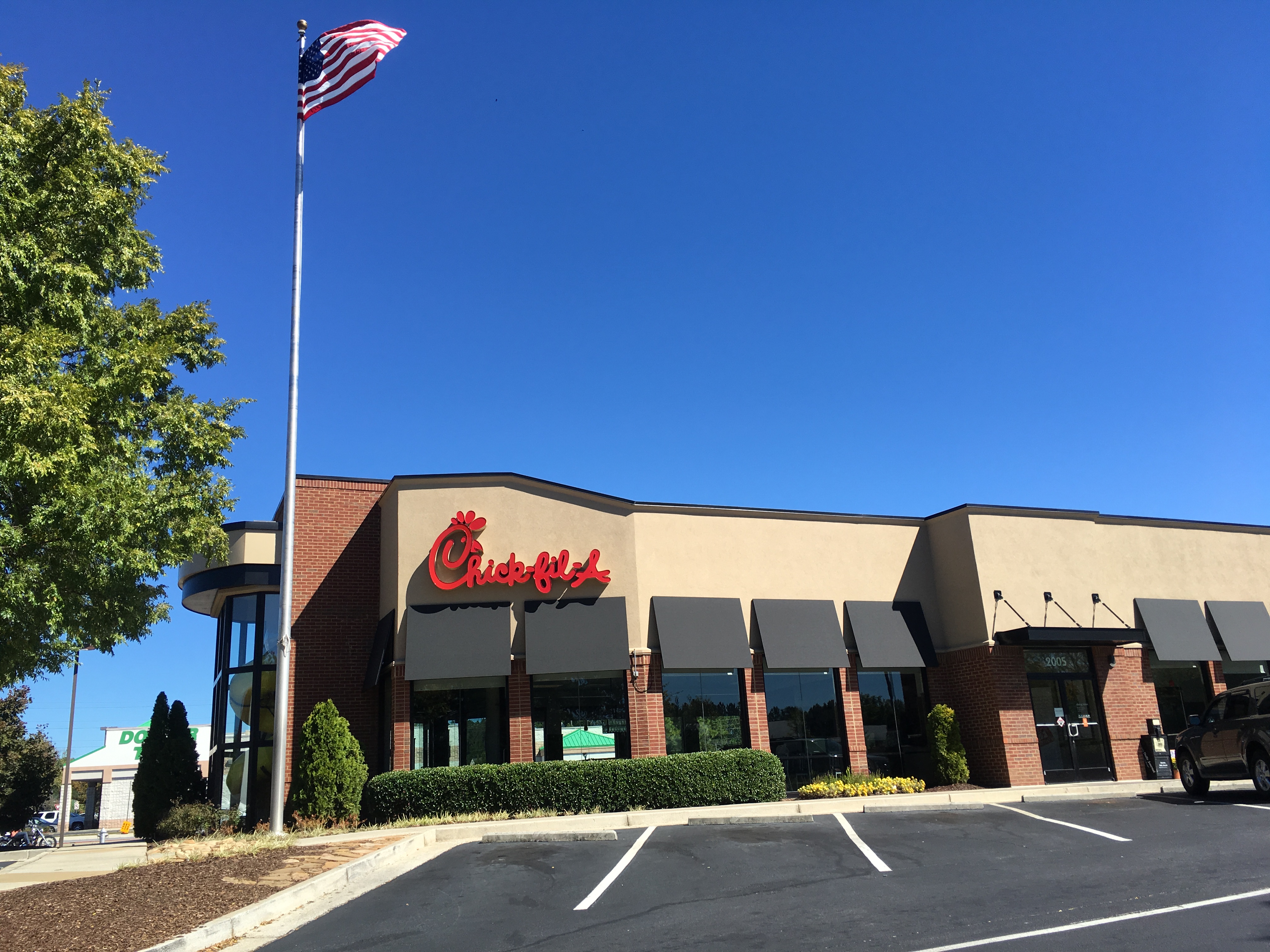 I have spent the last week working in the Atlanta area. My client is the owner/operator of a Chick-fil-A and I have been working "undercover" in his store to observe the culture of the organization. As I drove down Powder Springs Road, the store came into view. There were no cars in the parking lot and the building was dark. Of course. It's Sunday.
As I sat at a red light in front of the store, I realized that an empty Chick-fil-A parking lot is a silent picture of the Invisible Kingdom. In our fast-paced world, striving and noise is prized over quietness and trust. We are continually fed a narrative that if we want to be successful, we must work constantly and never slow down. Unfortunately, many in my generation have rebelled against this narrative by choosing the other extreme.
Working at Chick-fil-A this past week has taught me many things. Prior to this week I would have said I had a good work ethic, but it's been awhile since I have worked in food service. I'd forgotten how exhausting it is to be on your feet for hours at a time, and I have a new respect for the people who serve my food at these establishments. I'm reminded of the value of hard work and, also, the value of rest.
What I like about Chick-fil-A is the way they labor six days a week, and shut everything down one day. It's a reminder of the way God created things, that we should work hard six days a week and take a day off to care for our souls. By "work hard" I don't mean our work must be dull and lifeless, but rather that we bring our whole hearts to the workplace and fully engage in the task set before us (Colossians 3:23). I'll admit, this can be a challenge for me at times, especially on the days when my work doesn't feel fulfilling.
Whatever you do, work at it with all your heart, as working for the Lord, not for human masters, since you know that you will receive an inheritance from the Lord as a reward. It is the Lord Christ you are serving. ~ Colossians 3:23-24, NIV

In a society where the majority of people live for the weekend and dread Monday morning, it can be hard to think of work as a good thing, let alone consider bringing our whole hearts into the work place and being fully engaged. I'll admit, while there were times I did this at Chick-fil-A this past week; most times I counted down the hours until my shift was over. The problem with this is it causes us to miss out on the entire point of work. It becomes more about getting through it and collecting a paycheck, rather than a way to connect with God and tap into our true identity as co-laborers in stewarding creation. The end result leaves one with a feeling of "What am I doing with my life?" rather than being alive and engaged in the moment, regardless of circumstances. Whatever you do. We are not urged to first consider whether are circumstances are ideal before we choose whether or not to engage.
God created work "good," before evil entered the story and tore things apart. Part of the curse of the fall of mankind was that work would become difficult and unfulfilling (Genesis 3:17-19), hardly something you want to engage in wholeheartedly. However, we know that in Christ the curse is broken. And I don't think it's solely broken at some point in the future, because I know that we live in the overlap of the ages–between the brokenness of this finite world and the wholeness of the Kingdom of God. In this life, we will experience both. Which will we experience more? I believe it will be the one we choose to be most aware of. Yes, we have a choice in which Kingdom we choose to experience, regardless of our external circumstances.
Colossians 3 begins with an admonition to set both our hearts (v. 1) and our minds (v. 2) on "things above." I see an interesting correlation here. Whatever we set our hearts on, our minds will follow. If I choose not to be wholehearted in my work, my mind will ask "What is the point?" at the end of the day. But if I first engage my heart in whatever task is set before me, my mind will be set free to see the Invisible Kingdom in the finite hustle of Monday-Friday. And when I choose to press pause, to shut the whole thing down once a week, that is when my mind is granted perspective to see the bigger picture. That is when I am freed from this present evil age to see that the moments where I catch a glimpse of the Invisible Kingdom build upon one another; they are compounded so that I journey from glory to glory (2 Corinthians 3:18) as I become more aware of the Kingdom that is arriving and less aware of the kingdom that is fading away (1 John 2:17).
For Chick-fil-A, Sunday is a day of rest, which brings perspective. But this perspective can only come to those whose hearts are alive and engaged in the struggle of Monday-Saturday. We can't turn our hearts off at work and expect them to automatically turn on when we're off the clock; we have to choose beforehand that we will live wholehearted no matter what is set before us. When we first engage with our hearts, our minds will follow. When we see work as a gift rather than a curse, we are tapping into the reality of the world which once was, and the world that is yet to come. After all, work was blessed before it was cursed; it was designed to be fulfilling before it became filled with striving. We will experience whichever Kingdom we are most aware of. The Kingdom of God is all around us, bursting into our lives to the degree that we choose to show up and see it.
What can you do to be wholehearted (fully alive and fully engaged) in your work this coming week?