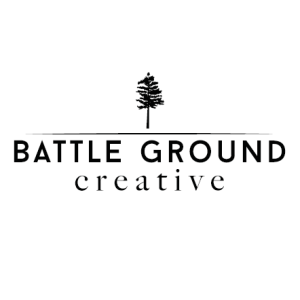 Battle Ground Creative is an independent publishing company and creative firm that specializes in copywriting, ghostwriting, and social media management for clients across the country.
Our President and Senior Writer, Jared Stump, is well qualified in each of these fields, bringing a diverse portfolio of experience to the table. He has written, edited, and contributed to several books, as well as written copy and press releases for a wide variety of businesses, which include: car dealerships, feed stores, construction companies, government agencies, steel manufacturers, and healthcare professionals. One of Jared's strengths is his ability to connect with people from various backgrounds, regardless of whether they are a business professional in Dallas, a writer in San Francisco, a pastor in Colorado, a small business owner in South Dakota, or a farmer in Oklahoma.
Jared is also an experienced consultant who loves sharing his successes and failures with others, in order to help them get ahead of the game in their field. He has helped new writers navigate the publishing process, non-profits develop their social media strategies, and churches take their ministry to the next level. Having worked with churches and ministries of various backgrounds, Jared also offers specialized consulting for churches in the areas of youth ministry, church health, and local outreach.
Recently, Jared has launched into the field of public speaking. He has already spoken in schools and churches across Texas, California, Colorado, Florida, Iowa, Maryland, Montana, Oklahoma, Pennsylvania, South Dakota, and Virginia, where he brings a positive and inspirational message.
Services Offered
   Writing | Whether you need copy written for your website, or help with your first book, we've got you covered!
   Editing | Need an editor? Hire one of ours to help fine tune your words before they make their way into the public eye.
   Publishing | We are a full-service independent publishing company. Scroll down past our team photos for details.
   Photography | We currently offer limited event and commercial photography. Contact us for details.
   Social Media Management | We have years of experience that is proven to expand your reach.
   Music Production | We work with first-time and veteran artists to produce their albums from start to finish.
   Marketing & Strategy Consulting | Need help with your marketing or branding strategy? Let us develop one that works.
   Nonprofit Consulting | Areas of expertise include media, communications, and overall public image.
   Public Speaking | Jared Stump: Inspirational + Religious
Partial Client List
For details on how we helped the clients above expand their reach, send us an email and say hello. We can't wait to hear from you!
Philosophy & Logistics
We are committed to helping first-time authors find their voice.
We believe everyone has a story to tell, not just an opinion to share.
We believe that love is the strongest governing force in the world; therefore, love is the center of everything we do as an organization.
We are named after an obscure city in Washington State, because you don't have to be well-known before you can inspire those around you.
Our central office is located in Dallas, TX and we also operate a field office in Harrisburg, PA to more effectively serve our clients on the East Coast. One member of our creative team alone logs more than 40,000 miles each year, visiting clients across North America. No matter where you live or do business, we look forward to serving you.
Publishing
We are a full-service, independent publishing company that comes alongside authors to guide them through the process of self-publishing. We handle everything from idea conception through marketing and distribution, and specialize in helping first-time authors find their voice. The world of publishing is changing rapidly, and many authors are discovering that self-publishing is an affordable and viable alternative to traditional publishing, allowing them to keep more of the royalties they earn.
No matter where you are in the process, Battle Ground Creative can help you make your dream of writing a book a reality. If you already have a first draft, we can be of assistance with editing, interior formatting, and cover design services. If you're still struggling to put the words on the page, we can help there as well with more in-depth copywriting and editing services. We even offer ghostwriting services for those who have great ideas, but aren't quite as great at communicating them on paper.
To submit your project for review by our acquisitions department, send us a brief email that gives a synopsis of your book, target audience, current writing status, and estimated completion date. As an independent publisher, we are committed to encouraging fresh voices that have stories to tell. We're looking for books that move us, not just what we think will sell. Even if we are unable to pick up your book for publishing, our editing and design services will be available to you if you desire to utilize them.
Books and Bulk Orders

Here is a complete title list of books we have published:
Battle Ground Creative offers volume discounts on the above titles on purchases of 10+ units. Contact us for pricing.