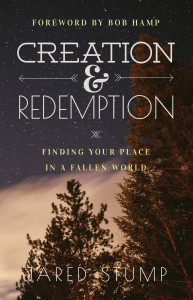 Creation & Redemption: Finding Your Place in a Fallen World
Available from Battle Ground Creative: August 1, 2015
Order your copy today and receive FREE shipping in the continental United States!

In a fallen world, pain is a reality. None of us escape unscarred. We often feel out of place, searching for somewhere to belong. There is something inside of us that craves redemption, because we were made in the image of a God who is at work redeeming creation. He is making all things new, inviting us to rip up the scripts that we have been handed and re-write our lives into more beautiful stories. The only problem is, there is often a disconnect between the stories we tell and the stories we dream of telling with our lives.
Creation & Redemption is the story of a young adult caught in the ups and downs of growing up, wrestling with God, and trying to find his place in the world. Part memoir, part novel, part theological conversation, this book will appeal to readers of all ages who desire to grasp a better understanding of the world we live in and how redemption inspires us to tell better stories with our lives. God is making all things new—including our greatest fears and deepest pain.